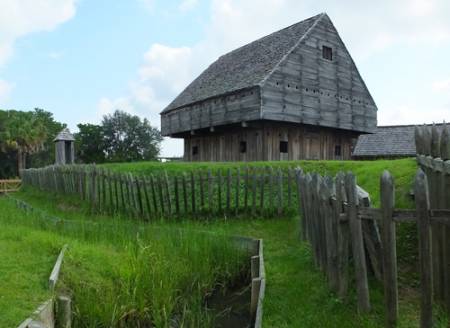 Photo by Jaimie Bruzenak
Fort King George was the southernmost outpost of the British Empire in North America. Built in 1721 and used until 1736 as a fort, it was surrounded by a moat on two sides and the Altamaha River on the third. General James Oglethorpe brought Scottish Highlanders to the site in 1736, after the fort was abandoned. Darien became a foremost export center of lumber until timber was depleted around 1925. The ruins of a sawmill can be found on the fort site.

If you go:
The fort is located in Darien, 3 miles east of I-95 exit #49. Besides the reconstructed fort, the site includes a museum with an introductory film, nature trail, a British military cemetery, remains of a sawmill and tabby ruins. It is on the Colonial Coast Birding Trail. Walking shoes and insect repellent are advised.
Links:
302 McIntosh Road
Darien, Georgia 31305 USA
Phone Numbers:
Fort King George State Historic Site
+1 (912) 437-4770