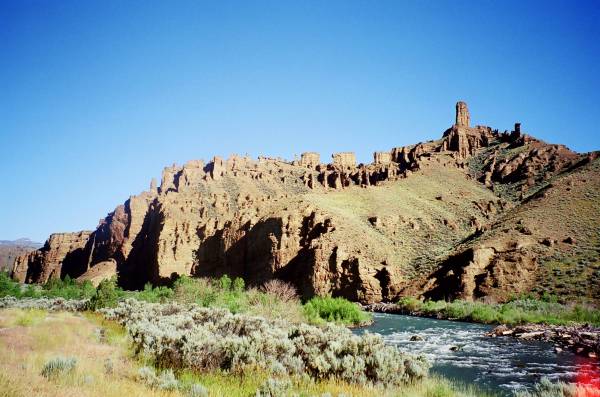 78 miles – 1 hour 30 minutes
This is one of those drives where the route itself is the destination. That may seem a claim too far when you're heading towards the natural wonders of Yellowstone National Park but the drive west from Cody – through a spectacularly rugged canyon carved from volcanic rock by the Shoshone River – really is one of America's most beautiful drives.
The highlights of the Buffalo Bill Scenic Byway include:
Cody
(starting point)
If your schedule allows, try to spend at least 24 hours in Cody. You can easily fill the day with visits to the
Old Trail Town
and the five superb museums that make up the
Buffalo Bill Historical Center
. In the evening, make sure you're outside the Irma Hotel by 6.00 pm for the
Cody Gunfighters
, then make your way to Cody Stampede Park for the
Cody Nite Rodeo
.
Find Hotels and Motels Near Cody
Buffalo Bill State Park
(mile 9)
Stop and admire the beautiful Absaroka Mountains reflecting in the waters of the reservoir at
Buffalo Bill State Park
. There are also two campgrounds offering basic facilities (no utility hookups or showers).
Buffalo Bill Scenic Byway
Follow the Buffalo Bill Scenic Byway (U.S. Routes 14, 16 and 20) all the way to Yellowstone National Park's eastern gate. Theodore Roosevelt described this route as "the most scenic 50 miles in the U.S." and it's difficult to argue. Keep an eye out for elk, moose, bighorn sheep and both black and grizzly bears.
Pahaska Tepee
(mile 50)
Pahaska Tepee
, "The Original Buffalo Bill Cody Hunting Lodge", was built in 1904 and is still stands here today. Accommodation is available in the modern lodge and surrounding cabins, and the location, just a couple of miles from the entrance to Yellowstone, is nothing short of idyllic.
Fishing Bridge, Yellowstone
(mile 78)
Fishing Bridge offers all the facilities you need to prepare for your time in
Yellowstone National Park
, including general store and gas station plus the historic Fishing Bridge Museum and Visitor Center.
Find Hotels and Motels Near Cody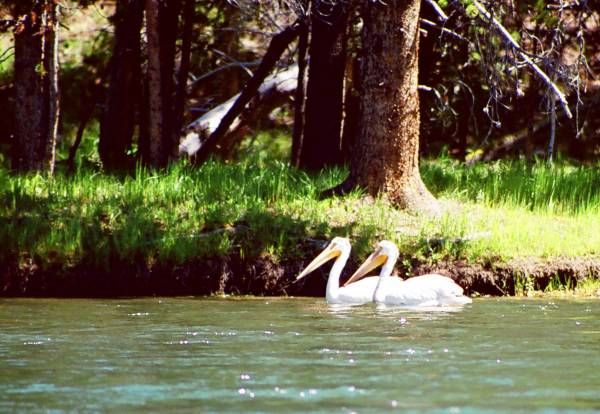 A pair of pelicans float down a quiet creek in Yellowstone