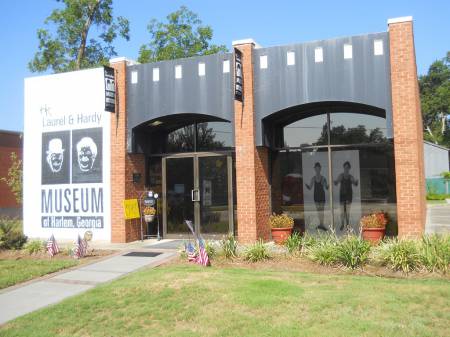 Harlem is the birthplace and hometown of Oliver Hardy, one-half (the portly one, so maybe two-thirds) of the early movie team that made people laugh through the Great Depression and WWII. The museum has artifacts and memorabilia from the comedians plus 106 of their Hollywood films for viewing. For those who are old enough to recall the duo, or for younger people who never got to see them perform, this is a must see attraction.

If you go:
Admission is free and so is parking. The museum is closed on Sunday and Monday, so plan accordingly and call ahead for hours. While you are in Harlem, go next door and visit the Lucky Lady Pecan Company and buy some yummy flavored treats.
Links:
250 N Louisville Stret
Harlem, Georgia 30814 USA
30814
Mailing address:
Laurel & Hardy Museum
250 N Louisville St.
Harlem, GA 30814 USA
Phone Numbers:
Laurel & Hardy Museum
+1 (706) 556-0401
Laurel & Hardy Museum
+1 (888) 288-9108