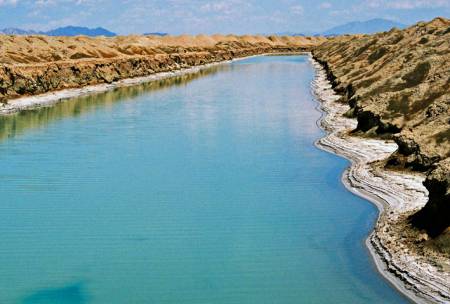 Head south out of the famous Route 66 town of Amboy and over to your left you'll notice a series of bright blue canals or ponds. These brilliantly-colored pools have been dug to enable harvesting of salt from the naturally-occurring underground brine (evaporation of the water leaves the salt behind). They are owned and operated by National Chloride Company of America and are the reason for Amboy's existence in the first place.

If you go:
Be sure to stop in at the Amboy Cafe which is now open.
Links:
N. Amboy Road
Amboy, California 92304 USA
Mailing address:
National Chloride Co.
P.O. Box 604
Norwalk, CA 90651 USA