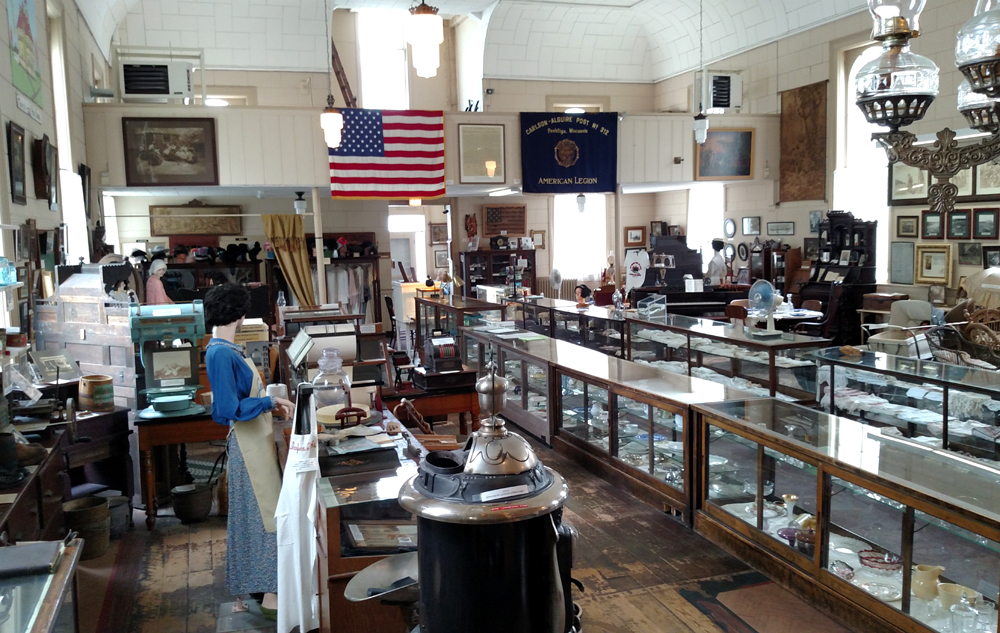 Photo by Mark Sedenquist
Late on the evening of October 8, 1871 a wildfire burned in the forests surrounding the town of Peshtigo. In a few short hours, the entire town burned to the ground. Over 1200 people were killed during the firestorm. This wildfire is known as the "Forgotten Fire" because it happened the same night as the Great Fire of Chicago. Several thousand acres of woodland eventually burned in Wisconsin and Michigan. Total lives lost might have been as high as 2000 and this remains as the largest wildfire in the United States. The museum has some of the few remaining artifacts from the fire. There is a mass grave next the museum containing the remains of more than 350 people who were unidentified after the fire. And there are informational signs near the grave markers that were identified which provide stories about what happened that night. But the best part of this museum is found in the two lower floors -- an assemblage of tools, photos, native American artifacts and boats of various periods. One collection of saws is particularly interesting.

If you go:
Admission is free, but donations are accepted. Open May to October.
Links:
400 Oconto Avenue
Peshtigo, Wisconsin 54157 USA
peshtigohistoricalsociety@gmail.com
Phone Numbers:
Museum Information
(715) 582-3244