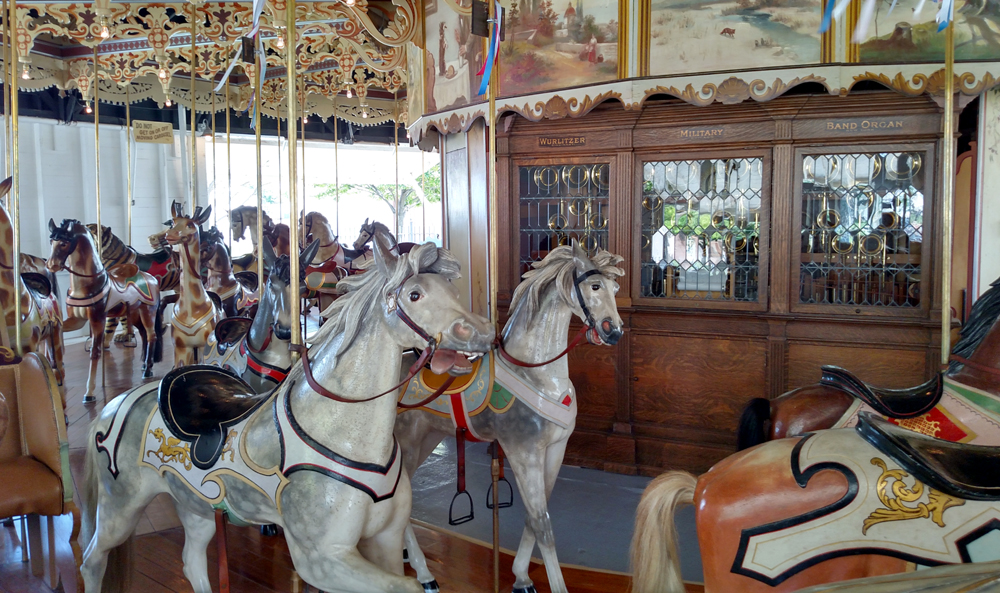 Photo by Mark Sedenquist
Of nearly 4000 wooden carousels carved between 1885 and the 1930s, fewer than 150 still exist in the USA. One of the most beautiful (and fastest spinning) such merry-go-rounds can be found in the town of Burlington along Interstate Highway 70 in eastern Colorado. Located on the Kit Carson County Fairgrounds, rides cost 25 cents and entrance to the museum is $1.00 per person. The animals do not go up and down, (a stationary merry-go-round) but the ride lasts about seven minutes and goes more than 10 miles per hour. That might not seem very fast, but riders of all ages need to hang on. The paint on the animals and on the screen panels is original and beautifully maintained. What's really cool is that the original Wurlitzer Monster Military Band Organ still works and plays a number of tunes as the riders spin around and around. The Carousel Museum opened in 2007 and the collection is quite fascinating. But the best part is looking at the intricate faces of all of the animals. When you visit be sure to look for the lion and the snake on the back of the camel. There are 46 animals and four chariots and all are different. Three more to look for: the Hippocampus, the Armored Horse and a baby giraffe.

If you go:
Open Daily Memorial Day to Labor Day, 11 a.m. to 6 p.m. The museum has a handout chart that lists all of the animals. On the way back to the freeway, check out the Old Town Museum on 14th street.
Links:
815 15th Street
Burlington, Colorado 80807 USA
Mailing address:
PO Box 28
Stratton, CO 80836 USA
Phone Numbers:
Information
(719) 348-5562