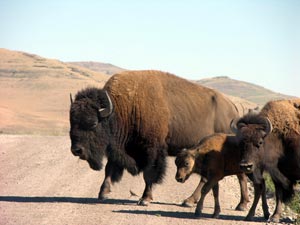 Photo by Mark Sedenquist
If you like those big wooly creatures we mistakenly call buffalo, You'll love the Bison Range. You can choose to drive a 14-mile round trip on Prairie Drive, or the 19-mile Red Sleep Mountain loop road. Both are graded gravel roads, but the longer one has steep grades and lots of switchbacks. There are many species of animals and birds on the range, so bring binoculars and camera.

If you go:
The Red Sleep Mountain Drive is only open May to October, but the Prairie Drive is open year-round. A nominal vehicle fee is charged.
Links:
Summit Road
Dixon, Montana 59831 USA
bisonrange@fws.gov
Mailing address:
National Bison Range
58355 Bison Range Road
Moiese, MT 59824 USA
Phone Numbers:
National Bison Range
+1 (406) 644-2211