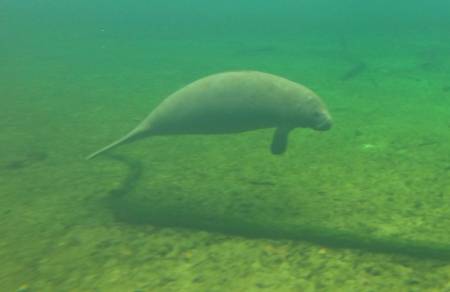 Encompassing more than 2600 acres, Blue Spring is situated on the beautiful St. John's River, where you can swim, fish, canoe, snorkel and scuba dive in season. The scuba spot is a hole 110 feet deep that offers an excellent underwater excursion. During the winter you can view manatees in some places on the river, and you're likely to encounter alligators, and a rich variety of other wildlife just about any time. There's also a boat tour of the river, as well as, a free self-guided tour of the 1872 Thursby House, built in the days when St. John's River was a hub of steamboat transportation. There is a campground in the park as well.

If you go:
Open every day from 8:00 a.m. until sunset. Manatee viewing season is November to March, and no swimming is allowed during that time.
Links:
2100 West French Avenue
Orange City, Florida 32763 USA
FSP.Feedback@dep.state.fl.us
Mailing address:
Florida Division Of Recreation and Parks
3900 Commonwealth Blvd. MS 535
Tallahassee, FL 32399 USA
Phone Numbers:
Blue Spring State Park
+1 (386) 775-3663
St. John's River Cruises
+1 (386) 917-0724.
Florida Division Of Rec. and Parks
+1 (850) 245-3083