Today was the first day of our month-long trip which I summarized in the previous posting in this thread. Living in Tucson puts us along the
Juan Bautista de Anza NHT
with several sites to the south. So we didn't have to backtrack today we visited the sites to the south of us last week.
Click here for this RTA Library Map
Our first stop today was
Picacho Peak State Park
, a great camping and hiking park. This park has a passport stamp for the Anza NHT, first one north of Tucson. Too warm today to hike. We hiked here about a month ago and enjoyed the dense green ground cover brought by a series of winter rains. The spring wildflowers are popping and Picacho was mentioned in the Tucson paper as a highlight. It was pretty today, but not as dense with wildflowers as we saw along the Pinal Pioneer Parkway, AZ 79, which parallels I-10 to the east. We drove along there this past Friday and enjoyed an abundance of wildflowers.
Picacho Peak - from Visitor Center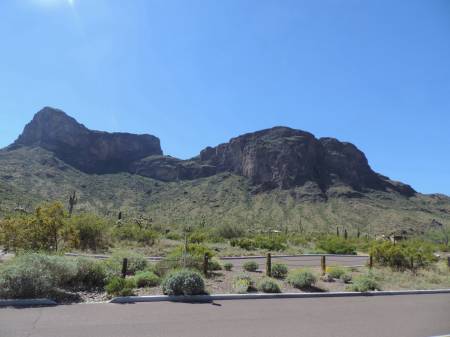 Just north of Picacho we exited I-10 and followed AZ 87 to Coolidge and the
Casa Grande Ruins National Monument
. On a previous visit I had picked up the Junior Ranger booklet and began working on the activities during that visit. A number of the activities could be completed off-site which I had completed at home. Today I finalized a few observations and received my completed certificate and an attractive wooden, enhanced Junior Ranger badge. This site is also part of the Anza NHT. The expedition travelled in the area and turned west here, following the Gila River to the Colorado River.
Casa Grande Ruins - near Coolidge, AZ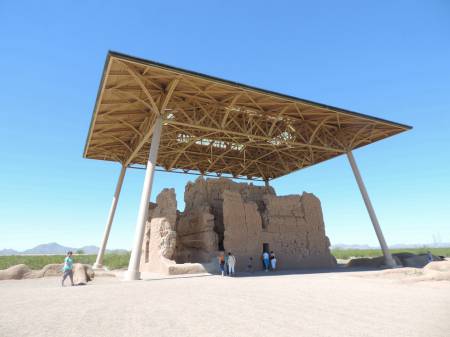 For those interested I write a blog titled "
Junior Ranger - Senior Friendly
". Since retiring two years ago I have completed quite a few Junior and Senior Ranger programs, mainly at the National Park Service sites. It has been a fun way to explore the parks, even the simple programs have taught me something new. The park staff are very welcoming of seniors completing the Junior Ranger programs. Currently less than twenty sites have Senior Ranger programs, but more are being added.
From Coolidge we turned west and picked up I-8 at Casa Grande. A quick stop at Freeman Road exit to replace a damaged letterbox, planted by my husband several years ago. This is part of the
Sonoran Desert National Monument,
managed by the Bureau of Land Management (BLM), a very undeveloped area. There is no visitor center, just a few trailheads and beautiful Sonoran desert views.
Letterboxing
is an activity we enjoy while traveling. A short description is a treasure hunt using clues from Internet sites which may use a compass. It is not geocaching which is dependent on GPS coordinates. In a letterbox you will find a hand-carved stamp and a logbook, you record the box stamp in your logbook and leave an image of your signature stamp in the box logbook. You will find them along interstates, urban settings, small towns, trails and all around the world. It began in England, at Dartmoor National Park, over 100 years ago.
A quick stop in Gila Bend at the city offices for two more Anza NHT stamps, for the Sonoran Desert NM and the city, itself. Back on I-8 to Painted Rock Road, Exit 108. About ten miles north of the interstate is an great BLM site;
Painted Rock campground and Petroglyph site.
It has 60 basic sites; picnic table, no water and fire ring with 2 pit toilets. During the winter season there is a campground host. A part of the campground is a mound of rocks covered with petroglyphs, some dating back to 7500 BCE. A short walk around the mound reveals numerous petroglyphs of several periods. In addition three trails came through this area; Anza NHT, Butterfield Stage Line and the Mormon Battalion. Outside of the campground I planted a new letterbox honoring the Anza NHT here at the Petroglyph Site. Camping fee is $8, full fee.
Finished the day with our standard Happy Hour - Gin 'n Tonic, salsa & chips and pistachios.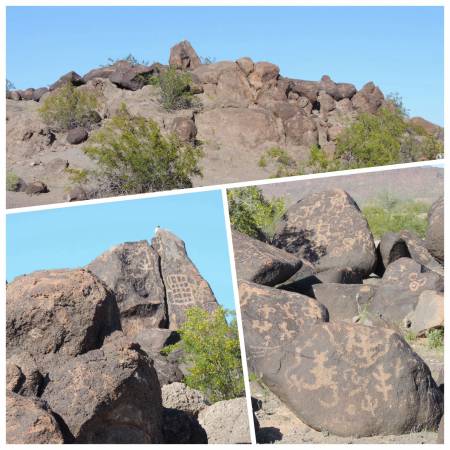 Passport Stamps
Juan Bautista de Anza National Historic Trail - including last week's stamps
- Las Lagunas de Anza
Tumacacori NHP
Tubac Presido, AZ
Hacienda de la Canoa
Presidio de Tucson
Saguaro NP
Picacho Peak SP
Casa Grande
Sonoran Desert National Monument
Gila Bend, AZ
Casa Grande Ruins NM - Coolidge, AZ
Letterboxes
1 - maintenance
1 - planted
Wildlife Sightings
Red-tailed Hawk
Sparrow
Hummingbird
Mourning Dove
Rock Pigeon
Great-tailed Grackle
Turkey Vulture
Lizard
Great Egret