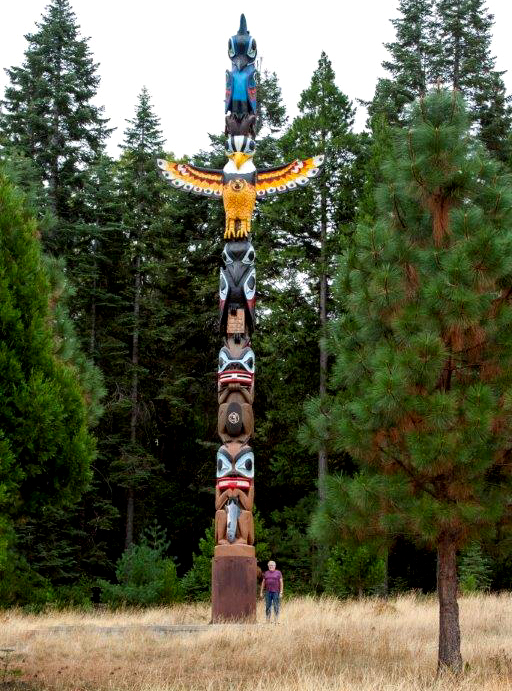 Photo courtesy of John Welch
In October, 1999, local sculptor John Welsh carved a 60-foot tall totem pole from a single 350-year old Sugar Pine depicting a gathering of an animal council consisting of a stellar jay, a thunderbird, a raven, a beaver, and a grizzly bear holding a salmon. The thunderbird has a wingspan of 18-feet and the other animals range from 10 to 12 feet tall. It sits on 7-foot concrete and steel base. It weighs approximately 24,000 pounds. The original pole proved to be quite popular with woodpeckers and boring insects, and in 2012 it was taken down and completely restored and reinforced with insect-resistant wood by Welsh and Sam Smith. Other totem poles might be taller, but according to the artist, this one is the "most colorful." The story behind the gathering of the animals can be read at the bottom of the page in the Shingletown link below.
If you go:
Shingletown is the gateway to Lassen National Park. Wagon wheel ruts from the Emigrant Trail can be found near Hwy 44. A couple miles east of the Totem is Anselmo Vineyards, wine tasting and restaurant.
Links:
31292 Alpine Meadows Road
Shingletown, California 96088 USA
johnwelch@shasta.com