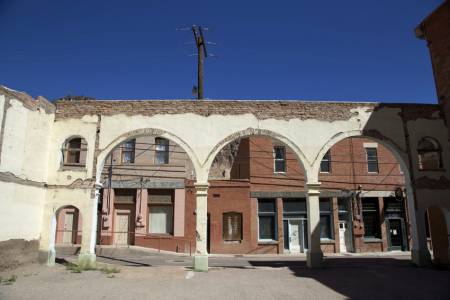 The town of Clifton owes its existence to the huge deposits of copper found at the nearby mines of Morenci and Metcalfe, and at its heart was the Arizona Copper Company's first smelter, built in 1873. The town continued to grow until the 1930s and more than 40 of the original buildings - together with other historic structures - remain standing today, one or two still in everyday use, others abandoned and now falling into disrepair. The site was added to the National Register of Historic Places in 1990.

If you go:
You'll find the highest concentration of original buildings along Chase Creek Street, which runs parallel to US Route 191 - better known as the Coronado Trail Scenic Byway.
Links:
Chase Creek / San Francisco River confluence
Clifton, Arizona 85533 USA
Mailing address:
Greenlee County Chamber of Commerce
100 N. Coronado Blvd.
Clifton, AZ 85533 USA
Phone Numbers:
Greenlee County Chamber of Commerce
+1 (928) 865-3313