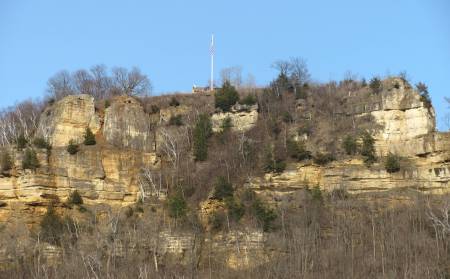 Grandad is a park that sits atop the largest bluff in the area, and has been ranked as one of the "Best Scenic Viewpoints" in Wisconsin. The park sits 600 feet above the valley overlooking LaCrosse and the Mississippi River. On good days, visitors can see bald eagles and have a view that stretches as far as Iowa. Several trails offer additional views from along the bluff.

If you go:
Bliss Road providing access to the park directly from LaCrosse is closed indefinitely do to damage caused by rain and mudslides. Visitors must reach the park by using WI-33 and County Road F.
Links:
3020 Grandad Bluff Road
LaCrosse, Wisconsin 54601 USA
brownp@cityoflacrosse.org
Mailing address:
City of LaCrosse Parks Dept.
400 La Crosse St.
LaCrosse, WI 54601 USA
Phone Numbers:
City of LaCrosse Parks Dept.
+1 (608) 789-7533
LaCrosse Area Convention and Visitor Bureau
+1 (800) 658-9424