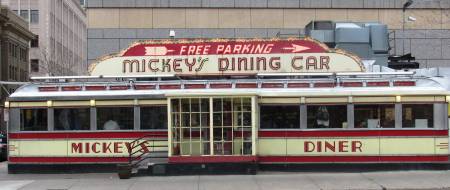 This depression-era dining car sits in the heart of downtown St. Paul. Mickey's was built in New Jersey in 1937, shipped by rail to St. Paul, and installed at its current location. It has been open 24 hours a day, 365 days a years since! It's the only remaining building of its kind in Minnesota, and has been featured in a large number of TV shows and movies. Mickey's was also one of the first diners to be added to the National Historic Register!

If you go:
Free Parking is available next to the restaurant. No reservations are accepted, and take-out orders are not allowed. Open 24 hours a day, everyday including holidays!
Links:
36 W. 7th Street
St. Paul, Minnesota 55102 USA
Mailing address:
Mickey's Dining Car Ltd.
P.O. Box 16060
St Paul, MN 55116 USA
Phone Numbers:
Mickey's Diner
+1 (651) 698-0259