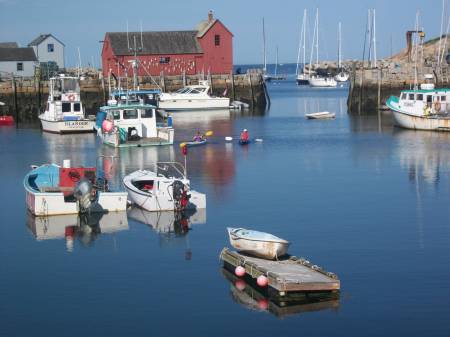 A postcard village on Cape Ann, Rockport is packed with enticing shops and restaurants, as well as a beach and a location to kayak or do stand-up paddle boarding. There are inns and weekly rental cottages right on the water and in the heart of town. It's a place where pedestrians rule the streets, the people are warm and friendly, and the general atmosphere is all but guaranteed to make you feel feel relaxed and refreshed.

If you go:
Parking, especially for large vehicles, can be a challenge. Your best bet might be to park on a residential street a few blocks away from the downtown area. On weekdays, you can park a short walk to the beach and a slightly longer walk to downtown. There is also a Park and Ride.
Links:
170 Main Street
Rockport, Massachusetts 01966 USA
nfo@capeannchamber.com
Mailing address:
Cape Ann Chamber of Commerce
33 Commercial St.
Gloucester MA 01930 USA
Phone Numbers:
Rockport Information Center
+1 (978) 546-9372