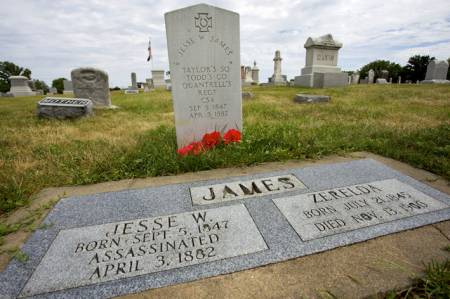 The most famous gravestone in this cemetery is that of Jesse Woodson James, assassinated by 'The Coward' Robert Ford on April 3, 1882. Much of the James Brothers' career was driven by loyalty to Confederate guerrilla forces and hatred of the North so he would surely be pleased with the military headstone that replaced a previous memorial lost to souvenir hunters. Other buried here include his wife Zerelda, their infant twins, Jesse's half-brother Archie Samuel (killed by a bomb thrown by Pinkerton detectives searching for Jesse and Frank), family matriarch Zerelda, and her third husband Dr Samuel Reuben.

If you go:
Don't miss a visit to the nearby James Farm, birthplace of Jesse James.
Links:
Missouri 92
Kearney, Missouri 64060 USA
historicsites@claycogov.com
Mailing address:
Clay County Historic Sites
21216 James Farm Rd.
Kearney, MO 64060 USA
Phone Numbers:
Clay County Historic Sites
+1 (816) 736-8500