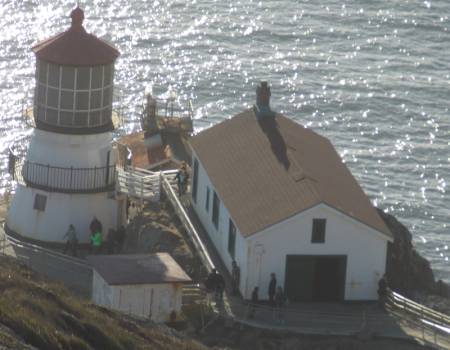 Photo by Chris Carroll
Sandy beaches, rocky headlands,grasslands, forests, hillsides and ridges are all found in Point Reyes. The area was home to the coastal Miwok Indians more than 5000 years ago. It was visited by Sir Francis Drake in 1579. Then in 1870 the lighthouse was built in response to the many shipwrecks along the rugged coast. If you are fit enough to climb the 308 stairs up and down, you can visit the lighthouse. Standing above, you might see whales spouting during the migration. And, driving the roads, you'll surely see deer, coyote and perhaps elk.

If you go:
No entrance fees are charged. All visitor centers are normally open throughout the year, but are closed December 25. See website for hours for visitor centers, lighthouse and special closures. Camping fees. On weekends from late December to mid-April when the weather is good, the west end of Sir Francis Drake Blvd is closed to vehicle traffic. Shuttle buses transport visitors to the lighthouse and Chimney Rock areas. Fee for those over 16 years of age. Pets are allowed only in the Bear Valley Visitor Center parking lot and picnic area and must be on a leash.
Links:
Point Reyes National Seashore
1 Bear Valley Rd.
Point Reyes Station, California 94956-9799 USA
Phone Numbers:
Point Reyes National Seashore
+1 (415) 464-5100