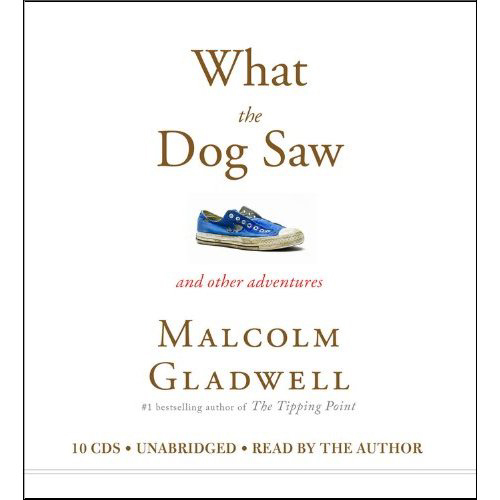 All of the essays in this book originally appeared as articles in The New Yorker magazine. When Malcom Gladwell was a child, he became fascinated with the idea that what was happening in his head was not necessarily the same as what was happening in others' heads. This fascination drove him to examine what people were thinking when they reacted to ordinary situations, and it inspired countless essays. However, the question of what was going on in Dog Whisperer, Cesar Milan's head as he calmed an animal was not as interesting to Gladwell as what was going on in the dog's head and became the topic of his signature article, What the Dog Saw. In compiling this book, Gladwell grouped his essays into 3 categories: those dealing with what he calls "obsessives, pioneers and other varieties of minor genius," those dealing with "theories, predictions and diagnoses" and those dealing with "personality, character and intelligence."
Among the geniuses that Gladwell discusses are the pitchmen, Ron and S .J. Popeil and Arnold Morris. Ron Popeil's genius lay in his realization that consumers not only have to be attracted to gadgets, they have to be taught how to use them. Gladwell makes the point that if Ron Popeil had invented and promoted VCRs, they would come in vibrant colors, the clock would not be a flashing digital annoyance, and everyone would know exactly how to set them to record and playback TV shows. Other pioneers were Shirley Polykoff and Ilon Specht who created the advertising slogans "Does she, or doesn't she?" and "Because I'm worth it" respectively. Each recognized and affirmed women's rights to define and express themselves at a crucial period in women's history.
In addition to describing the accomplishments of remarkable personalities, Gladwell discusses events and occurrences that gave rise to patterns of behaviors he's observed in people. He talks about the difference between panicking and choking in stressful situations, and he explains how expectations and perceptions can be used to analyze terrorist activity in the hopes of improving national security. Because this book is a collection of articles, it covers a wide range of topics, but each is provocative and inspires contemplation. In his introduction he says that "good writing doesn't succeed or fail on its ability to persuade," but on its ability to engage the reader and make the reader think. Keeping that in mind, then, this is must be considered an extremely well written book, and Gladwell's enthusiastic reading makes it an appealing audio book as well.
What the Dog Saw
by Malcom Gladwell
Read by the Author
Hachette Audio, unabridged: 13 hours on 10 CDs