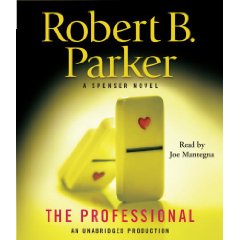 Itís just another day at work when an attorney walks into Spenserís office and hires him to represent not 1 but 4 of her female clients. All are married to wealthy older men; all are having an affair with a gigolo named Gary Eisenhower, and all are being blackmailed by him. As Spenser investigates the womenís dealings with Eisenhower, he develops an unexpected liking for the blackmailer. Regarding the womenís complaints as annoying rather than life-threatening, Spenser pursues Eisenhower placidly, but when the collateral damage from the womenís indiscretions turns to murder, Spenser steps up his investigation. As usual, Spenser gets by with a little help from his friends, the lovely psychiatrist, Dr. Susan Silverman with her PhD. from Harvard and Hawk, the menacing hulk, bodyguard and occasional killer.
Robert Parkerís Spenser is like the older brother we all wish we had. Heís fearless, funny, strong, ethical, down to earth, and unapologetically loyal to those he loves and respects, whether theyíre old friends or new clients. Joe Mantegna has read so many of the Spenser novels that just hearing his voice, brings images of Spenser and memories of his previous cases to mind. Spenserís quick wit and resulting repartee with the other characters has the same page-turner potential that spine-tingling terror might provide in a more serious mystery. To Parkerís credit, though, the story line in The Professional is engaging, involved, suspenseful and very satisfying.
Not only does Robert Parker provide an entertaining story with well-developed and sympathetic characters, his Spenser novels are uplifting in that the hero is a regular guy who manages to triumph over evil. Even though Spenser is flawed and imperfect, the world is a better place because he follows his principles and protects his fellow man. The combination of Parkerís writing and Mantegnaís narration makes The Professional a winner!
The Professional: A Spenser Novel
by Robert Parker
Read by Joe Mantegna
Random House Audio, unabridged: 5.5 hours on 5 CDs