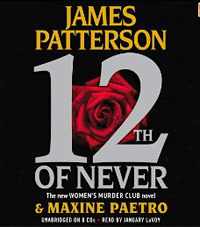 After a harrowing, premature and unconventional delivery Lindsay Boxer is now a mother, but the intrepid detective is unsure of her ability to carry out her new role with the same degree of success she enjoys as a crime fighter. She doesn't have long to ponder the situation though when her maternity leave is cut very short by a series of murders. One of the murders, that of the girlfriend of a star 49ers players presents problems for Lindsay's best friend, Chief Medical Examiner Dr. Claire Washburn when the girl's body disappears from the morgue. Not only must Lindsay try to find out who murdered the girl, she must find the body and vindicate her friend who is being charged with negligence. Lindsay's partner, Rich Conklin has had his hands full during Lindsay's week-long maternity leave with what appears to be a serial killer with psychic connections, so he's happy to have her back. Cindy and Yuki, the other members of the Women's Murder Club are busy prosecuting and reporting on Keith Hermann, a disbarred lawyer who is accused of killing and dismembering his wife and causing the disappearance of their young daughter. Pre-baby, this all would have been business as usual for Lindsay, but now she faces the scariest situation of her life when baby Julie is diagnosed with a catastrophic illness and Lindsay must divide her time and attention between her job and her family.
Patterson and Paetro do an amazing job of tying all the story lines together, melding the characters and their relationships to each other in a way that makes the reader feel that she might be a 5th member of the Women's Murder Club. In addition to the current unsolved crimes, Lindsay is facing a demon from the past-a maniacal killer who is willing to disclose the locations of victims' bodies, but who will only negotiate with her. 12th Never presents a side of Lindsay that adds depth to her character. Motherhood brings with it more tenderness and vulnerability, but an even greater resolve to eliminate crime and right the wrongs of her world.
For fans of the Women's Murder Club, 12 of Never is an agreeable addition. For readers who have not had the pleasure of meeting the women and their husbands, boyfriends and friends, this is a worthy introduction to the group that will surely inspire further reading of the entertaining series. These very likable if different friends detect, process, prosecute and report crime in San Francisco, often risking their lives, but always providing a thrilling, satisfying entertaining story. Highly recommended.
12th of Never by James Patterson and Maxine Paetro
Read by January LaVoy
Hachette Audio, unabridged: 7 hours on 6 CDs