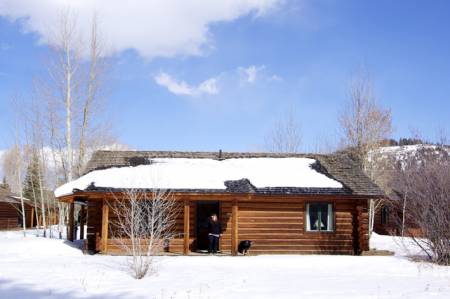 A local family since homesteading began here in 1912, the Dornans began their business by selling gas, beer and food to park visitors. Dude cabins were opened in 1935 and the current trading post was built in the 1940s. Today, Dornan's consists of the Spur Ranch Cabins (built in 1992 and refurbished in 2010), retail stores, two restaurants, a quite amazing wine store and outdoor adventure rentals.

If you go:
The cabins are superb. THere are no TVs, just spacious and very comfortable log cabins from which to base your exploration of the Grand Teton National Park.
Links:
12170 Dornan Road
#10 Moose Street
Moose, Wyoming 83012 USA
timm@dornans.com
Mailing address:
Dornans
Moose Enterprises, Inc.
PO Box 39
Moose, WY 83012-0039 USA
Phone Numbers:
Main number
+1 (307) 733-2415 ext. 300
Spur Ranch Cabins
+1 (307) 733-2522