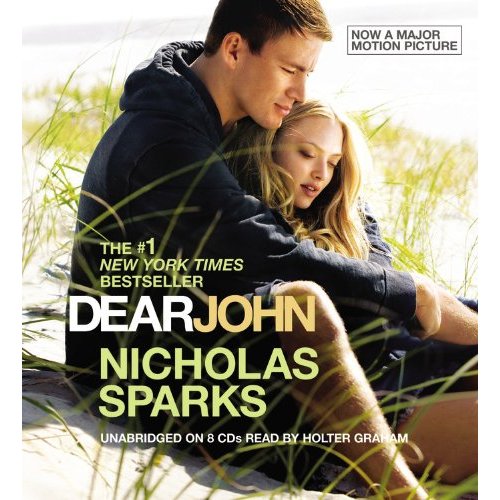 During World War II when a serviceman received a "Dear John" letter it meant that the girl he'd left at home didn't want to continue the relationship. Typically, the message was that she hadn't meant for it to happen, but that she'd fallen in love with someone else. The letter was called a
Dear John
and brought heartache to those receiving it, with the after effects varying from shock, disbelief, and anger to depression and remorse. In this book the young serviceman who receives the letter handles it in a unique manner that makes the listener give thought to what true love is really all about.
After barely graduating from high school, John Tyree gives up his rebellious behavior and joins the army. While home on leave in Wilmington, he meets Savannah, a college student who's spending the summer doing volunteer work. The unlikely pair fall in love and although separated by time and distance, they plan a life together, writing each other and emailing often. John is sent to Germany and Savannah begins graduate school. Even though he only has a few short months left before he is scheduled to be discharged and they can be together, John reenlists after 9/11. As a result, his life is changed forever when he receives the dreaded "Dear John" from Savannah.
Nicholas Sparks is the master of the love story written from a man's point of view. We see the world through John Tyree's eyes and feel his growth and maturity as he learns how to share love with the people around him. Part of the reason for his troubled youth is his inability to relate to an aloof, reserved, unemotional father. Because of Savannah's interest in autism and asperger's syndrome, John starts to see his father in a new light. John had resented his father's overwhelming obsession with coin collecting, but he begins to understand that his father can't help his behavior and he learns to appreciate the depth of his father's love.
Holter Graham's narration helps to make each of the characters unique and recognizable. The edgy, defensive John and the patient but conflicted Savannah become real for the listener thanks to Graham's presentation. Dear John is a unique love story, because it's as much about love that comes from loss as it is about being together with loved ones. This is an excellent audio book because likable characters react in unexpected ways, giving the listener both entertainment and understanding.
Dear John by Nicholas Sparks
Read by Holter Graham
Hachette Audio, unabridged: 9 hours on 8 CDs
Buy from Amazon.com