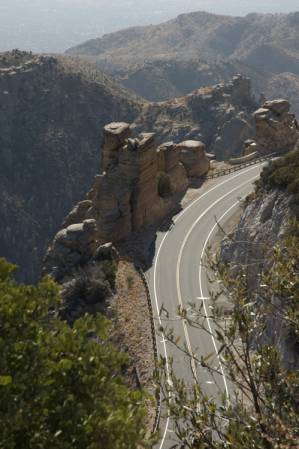 Known also as Sky Island Scenic Byway, Mt. Lemmon Highway and the Catalina Highway, this 26-mile winding highway takes you into the Coronado National Forest high into the mountains above Tucson. Watch for pullouts along the road. Stop and take in views towards Tucson and later all the way to New Mexico. You'll pass picnic areas, campgrounds and hikes. The Palisades Visitor Center is located at mile marker 19.6. Stop here to look at exhibits and obtain more information about the area. Restrooms are available. At the top is the tiny hamlet of Summerhaven with food.

If you go:
At the present time, no permit is required to drive the highway or access the hikes, pullouts or picnic areas. That will likely change so see the Forest Service website or call for more information. Very large motor homes, trailers over 22' and buses may have trouble negotiating steep grades and sharp turns. Places to turn around are few. The Palisades Visitor Center is open 5 days a week from 8:30 a.m. - 4:30 p.m. Fill your fuel tank before you start up the highway.
Links:
Mount Lemmon Highway
Coronado National Forest
Mount Lemmon, Arizona 85619 USA
Mailing address:
Santa Catalina Ranger District
5700 N. Sabino Canyon Rd.
Tucson, AZ 85750 USA
Phone Numbers:
Santa Catalina Ranger District
+1 (520) 749-8700