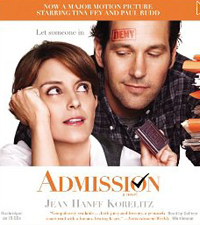 Portia Nathan's territory as an admissions officer for Princeton University has been changed from the laid back high schools of the West Coast to the elite and often stodgy schools of New England, forcing her to alter her wardrobe as well as her expectations as she visits schools, answering questions and soliciting applications to Princeton. Even a change of wardrobe doesn't prepare her for Quest Academy, though. Quest Academy is a new private school with unorthodox teaching methods, a seemingly unstructured curriculum and outspoken, unreceptive students. Instead of expounding on the benefits of attending Princeton, she finds herself defending the value of higher education of any sort. Strangely, rather than becoming discouraged by her visit to Quest, she's intrigued, recognizing the kind of brilliant, intellectually fearless students the Princeton faculty loves. One boy, in particular, interests her because he's managed to self-educate himself through reading and thinking despite all the obstacles and failures he's encountered in traditional school settings. Prior to working at Princeton, Portia had been an admissions officer at Dartmouth, her alma mater, and she discovers that one of the Quest teachers had known her during their undergraduate years. They meet for dinner and become reacquainted, but because she has a comfortable, if predictable and boring relationship with a Princeton professor, she sidesteps further involvement with John. Within months, her world disintegrates and only her friendship with John and her belief in the boy, Jeremiah, let her find her way back to happiness.
This is a comprehensive, but light-hearted look at the mysteries of college acceptance. Through Portia and her colleagues, we learn the chronology of the application process and how the application is treated as it makes its way from high school hometown mailbox through various admissions office committee members' hands to the acceptance or rejection letters in the outbox in the college mailroom. Portia and her colleagues share insider information about what makes a prospective freshman a reality or a reject.
While the book is really an entertaining romance, it offers solid advice and guidance to future college applicants and their parents. It also supports the idea that life is always changing and picking a path (or college major) and sticking to it is not always possible and/or the best option. In a thought-provoking passage the characters discuss the meaning of the word admission, questioning whether it refers to letting something out, such as a secret, or letting something in, such as love. This paradox of a word having contradictory interpretations exemplifies the tone of this book-- delightfully quirky and entertaining, but serious and informative.
Admission by Jean Hanff Korelitz
Read by Colleen Werthmann
Hachette audio, unabridged: 19 hours on 15 CDs