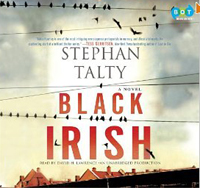 Detective Abbie Kearney is called to the scene of a grisly murder in the parish church in her old Buffalo neighborhood. The area, called the 27th county (Ireland has 26 counties) because of all the Irish who live there, is referred to locally as simply "The County." Fiercely loyal to their Irish heritage and to each other the residents close ranks when outsiders try to infiltrate their insular community. Although she was raised there, as the adopted daughter of storied police officer, John Kearney, Abbie is regarded as an outsider because of her birth parentsí shortcomings and because she dared to leave the neighborhood to attend Harvard and came back to assume a position in law enforcement, an area that residents consider to be a manís domain. While she is not of The County, she understands The County and when a serial killer begins brutally torturing and murdering men from The County she uses her understanding of the community and its ties to Ireland to discern a pattern for the killings. She finds ties to a local social group, the Gaelic Club, and its clandestine offshoot, the Clan na Gael, but she is not able to protect targeted victims because of the secrecy surrounding membership. The killerís calling card appears to be a toy plastic monkey, and when one is left for Abbie, she realizes her life is also at risk.
Stephen Talty has written a stellar police procedural, psychological thriller. Abbie Kearney is likable, believable and perfectly flawed. If that seems like an oxymoron, then thatís a good way to look at Abbie. She grew up in an antagonistic environment that shaped her, but she transcended the influences, and returned to the community, using the strengths she learned there to make the neighborhood better. Taltyís description of this Irish region in Buffalo is fascinating and is sure to interest anyone who has ever lived or travelled there. He also does a wonderful job of explaining the politics of Ireland, the IRA and how the turmoil continues to affect some Irish-Americans. David H. Lawrence XVII does a masterful job of narrating this thrilling audio book. His Irish lilt is perfectly dispensed according to the closeness of the charactersí links to Ireland, with recent immigrants having thick brogues and second generation sons and daughters retaining only a hint of the Gaelic influence.
This book is highly recommended for gut-wrenching suspense and mind-numbing terror. Brutality and betrayal bounce off the buildings of this seemingly virtuous enclave. Although heís well known for nonfiction, this is Taltyís first novel and he delivers an intriguing and complex plot with unanticipated twists and turns that leave the listener gasping in amazement as the action winds down to its plausible if unexpected conclusion. Combined with fascinating commentary on the effect of industrialization on a colorful urban community and a captivating main character, this audio book is a winner and is hopefully the first of many more from an exciting new novelist.
Black Irish by Stephan Talty
Read by David H. Lawrence XVII
Random House audio, unabridged: 10 hours on 8 CDs