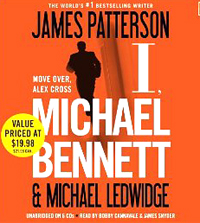 The Bennett family, consisting of a rainbow collection of 10 adopted siblings, their widowed father, their grandfather (a Catholic priest) and their Irish nanny, is leaving New York City for the serenity and safety of their Upstate New York vacation home. Detective Michael Bennett is especially glad to be away from New York, because his most recent case involved a cold-blooded drug lord who has sworn revenge for the killing of his lover. Although Manuel Perrine, AKA "The Sun King," is behind bars, his money and power allow his reach to extend to unknown and unimagined extremes. Expecting to find tranquility and security at their summer residence in Newburgh, the Bennetts are shocked to find the once bucolic town has been overtaken by gangs and is more dangerous than their New York City home. Allying himself with the local police, Michael is torn between his obligations as a NYC detective and his responsibilities as a loving father. He also must make choices in his personal life when romance in the person of a beautiful colleague threatens the affectionate relationship he and Mary Catherine have gradually and tenderly been developing.
As usual, James Patterson's characters are vividly portrayed and wheedle their way into our lives as cherished friends and relatives or feared and despised enemies as we read about their adventures. Mexican drug lord Manuel Perrine is particularly despicable, with his brutal tactics, his obscene wealth and his complete disregard for society. In contrast to him we find, Seamus, the man who became a priest late in life and recognizes evil in the world, but acknowledges only the good. Using two readers to portray the characters emphasizes the contrast between good and evil, the complexity of choices we make and the outcomes those choices effect. Bobby Cannavale and Jay Snider are both extremely effective in giving voice to the authors' words.
In addition to being an entertaining story, this audio book is an eye-opener for anyone who is naïve about the insidious impact illegal drugs and gang violence are making on everyday life. While alarming, the message is also optimistic, showing the power of love and the effectiveness of cooperation between police and concerned citizens. Patterson and Ledwidge do present the reader with a dilemma, though. The cliff-hanger conclusion begs for a sequel. Some readers may be upset that everything is not tied up in a neat, little bundle with all conflicts resolved and evil irrefutably banished. However, I find it enticing and look forward to a continuation of the action begun in this novel. Highly recommended.
I, Michael Bennett by James Patterson and Michael Ledwidge
Read by Bobby Cannavale and Jay Snider
Hachette audio, unabridged: 7.5 hours on 6 CDs