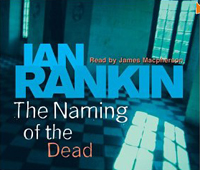 In this sixteenth Inspector Rebus novel, set in 2005 at the G8 summit meeting near Edinburgh, Scotland, a Member of Parliament turns up dead outside Edinburgh Castle -- an apparent suicide. Or is it? Then another body is found, in a place called the Clootie Well. This is a spot where people over the years have left clothing draped over tree branches for luck, or to appease the fairy folk. Clues point to the possibility of a serial killer. Add to that the violent protests against the G8 summit, and Detective Inspector Rebus has his hands full, even if his superiors weren't doing their best to keep him off the case. After all, Rebus is a known troublemaker approaching retirement age and his boss doesn't want him around to mess things up. The result is that Rebus and his colleague Siobhan Clarke are up against murderers, their own superiors, and sometimes even each other in their quest to find out who is responsible for the spate of killings.
The action unfolds in real time and the July 7th 2005 London bombings are referenced in the book, adding to the realistic quality of the narrative. This novel is set near the end of Rebus' career and there are currently only two more Rebus novels written after this one. This gives a sense of the Rebus series of novels also happening in "real time" since Rebus is about to retire.
The audio book (there is also an
unabridged audio version
) has the wonderful advantage of (in this case) James Gale's reading. Each character is voiced in a Scottish or English accent. This greatly enhances the listening experience. If you were put off by the Scottish dialog in the movie
Trainspotting
, never fear – Gale's Scottish accents are perfectly understandable to the American ear.
Ian Rankin's Inspector Rebus novels are hugely popular in the UK (they've been made into TV shows) and it's easy to see why. Prickly and complex, Rebus is a no-nonsense cop who doesn't hesitate to defy authority if by doing so he can solve crimes. Which he does, after a satisfying number of plot twists. Do you like police procedurals, deft characterization and Scottish accents? If so, Ian Rankin is your man.
The Naming of the Dead by Ian Rankin
Read by James Gale
Hachette Audio, abridged (by John McElroy, approved by the author): 7 hours on 6 CDs