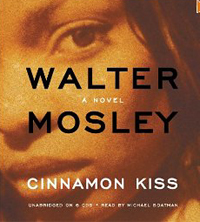 His daughter has a rare disease and for a chance at her survival, private detective Easy Rawlins needs a lot of money, fast. He needs it so badly that he's considering accepting his friend's offer to help rob an armored car full of cash. Luckily, a different employer suddenly appears and soon Easy is traveling from Los Angeles to San Francisco. His job is to track down some people and documents. It's the summer of 1966 and he finds a strange collection of people in the Bay area and the promise of a fresh wind blowing away old prejudices. He also finds a dead body and incriminating photographs dating back to the Second World War. Beautiful women, a murder, and a trail that might lead to enough money for his daughter to get medical treatment spur Easy Rawlins on his search from San Francisco to Los Angeles and back. Meanwhile someone seems to be gunning for him, and he just might not live long enough to finish the job.
The broad strokes of American culture in the latter half of the twentieth century form the background for Walter Mosley's picture of Easy Rawlins, an African-American private detective who seems to know just how far to push people to get what he wants. Now with a PI license to give him legitimacy, Easy also has one foot in an underworld that gives him the appearance of being on both sides of the law, and morally ambiguous. He does have a strict morality, however, and it includes doing whatever it takes to get his daughter well, and he doesn't bend his personal rules for the sake of convenience.
Easy Rawlins walks this ethical tightrope in the face of mounting obstacles. These obstacles include the fact that as an African-American, the police will suspect him when anything goes wrong, or even if he looks out of place. One of Mosley's themes is the precarious position of African-Americans in the eyes of law enforcement in mid-twentieth century America. In this book, Easy has come a long way since
Devil in a Blue Dress
and there are hints that American society is changing too. In
Cinnamon Kiss
Mosley combines a crime thriller with a noir hero who beautiful women apparently can't resist, and places the story in an iconic 1960's location. It all adds up to an engaging story whether or not you've followed the Easy Rawlins series from the beginning.
Cinnamon Kiss by Walter Mosley
Read by Michael Boatman
Hachette Audio, unabridged: 7 hours on 6 CDs