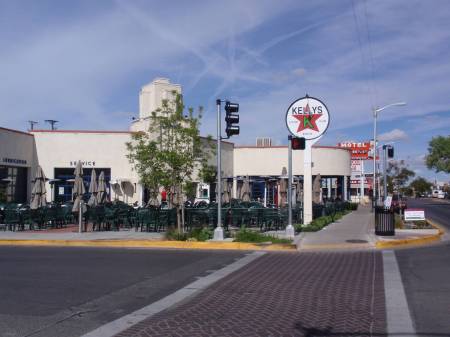 Photo by William Hall
Originally Albuquerque's "Main Street" Central Avenue was also Route 66. In the Nob Hill area, some buildings like the Jones Motor Company (now Kelly's Brew Pub) remain. You can step back in time and capture the flavor of the days when this was the main route between Chicago and Illinois. Several original neon store signs and the deco-inspired towers are still intact. Enjoy the restaurants and shops along the route.

If you go:
You can follow Central Avenue off I-40 all the way through Albuquerque. Nob Hill is on the east side of town.From the west, take exit 157A, Rio Grande Blvd, south to Central. It rejoins I-40 at Exit 167 on the east of town.
Links:
Central Ave. SE
Albuquerque, New Mexico 87106 USA
Mailing address:
Albuquerque Convention & Visitors Bureau
20 First Plaza NW, Suite 601
Albuquerque, NM 87102 USA
Phone Numbers:
Albuquerque Convention & Visitors Bureau
+1 (800) 284-2282