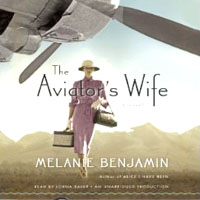 As Charles S Lindbergh makes his historic solo flight to Paris in 1927, citizens around the world watch, not realizing how this monumental achievement will alter their everyday lives. For one star struck young girl, Anne Morrow, the event would prove to rock her world and would lead to joy and despair when she becomes The Aviatorís Wife. Anne Morrow, the quiet, bookish daughter of a diplomat, is accustomed to taking a backseat to her flamboyant sister and her celebrated parents, but when Colonel Charles Lindbergh notices her spirit of adventure and her willingness to embark on a life of travel and exploration he asks her to marry him, making her the most famous bride in the World. Enduring physical discomforts in one small, cold, noisy cockpit after another as they travel the world mapping aeronautical routes, the Lindberghs cheerfully face danger in the skies and wearily dodge publicity thirsty reporters on the ground. Even the birth of their first child does not give Anne respite from the life of celebrity co-pilot as she and Charles take on a 6 month assignment, leaving the child in the care of nannies. When their trip is cut short by news of her fatherís death, they return home and Anne is finally able to be the full-time mother she has longed to be. The Lindbergh family is adored and idolized by the public and their child, Charles Lindbergh, Jr., is regarded as an American prince, so when despite elaborate security measures, he is kidnapped, the country mourns. Anne has been increasingly aware of her husbandís overbearing, egotistical, chauvinistic ways, and she has accepted them as part of the hero persona, but her sonís disappearance and death change her perceptions and behaviors altering the course of the remaining 42 years of her marriage.
Melanie Benjaminís fictionalized account of the pioneer aviatrix and her husband provides a unique look at the woman who is perhaps best known as a respected author. As she examines the marriage of Anne and Charles Lindbergh, the author reveals character flaws in Charles that became obvious to the world during his lifetime, but the enormity of which shocked both his admirers and detractors after his death. Although the authorís treatment of Anneís life is slanted favorably toward Anne and is very forgiving of her transgressions, Anneís enduring love of her husband, even after learning of his shortcomings is testament that Charles Lindberg deserves to be regarded as a hero, if not for his personal actions, but for his vision, endurance and courage.
The Aviatorís Wife is fascinating on several levels. The ability to get on an airplane and cross the country in hours is something that most of us take for granted, but this book reminds us of the extreme bravery and foresight of early aviators who risked their lives, fortunes and reputations to make air travel possible. The author also opens a window to let us observe early 20th Century society before, during and after the Depression. Perhaps, the most appealing feature of this audio book, though, is the opportunity to see a different side of a historic literary figure whose words have influenced generations of readers. Highly recommended for both entertainment and enlightenment.
The Aviatorís Wife by Melanie Benjamin
Read by Lorna Raver
Random House audio, unabridged: 16.3 hours on 13 CDs