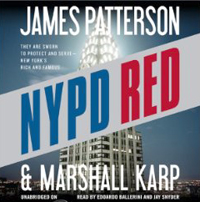 Zach Jordan may be one of the 75 lucky NYC police officers chosen to serve on the elite High Profile Victims' Response Team or NYPD Red, but he's not feeling lucky this morning as he anticipates his first day with his new partner, Kyle MacDonald. Not only is NYPD Red charged with protecting the hundreds of extra celebrities who will be in town as part of the Mayor's promotion intended to encourage more filmmaking in New York,
Hollywood on the Hudson
, but his new partner is his ex-girlfriend. Zach and Kylie dated after they met at the police academy, and although Kylie married someone else, Zach never stopped loving her. There is no time for awkwardness when they meet at the station, though, because they are immediately assigned a murder involving a visiting Hollywood bigwig.
The Chameleon and his girlfriend know a great deal about this murder because he scripted it and she helped him carry it out. A bit actor, the Chameleon is adept at make-up, costume design and playing roles, but he's tired of being a face in the crowd and decides to seek revenge against all the Hollywood powerful who have wronged him. He decides to write, produce, direct and star in the spectacular and very public serial killings that eradicate his enemies. Zach and Kylie quickly deduce who his next victim might be, but the Chameleon eludes them. Death becomes personal when he puts Kylie's screenwriter husband on his list of targets.
This is an electrifying police procedural and psychological thriller from the team of Patterson and Karp. New York City with its frenetic pace is the perfect backdrop for a psychopath intent on staging multiple murders. The authors not only present a spell-binding mystery with countless twists and turns, they offer the reader an insider's look at the film industry and the people and stagecraft behind the glamor on the screen. Although, there is never any mystery about who is doing the killing and why he's selecting particular targets, a very clever plot element is revealed in the explosive conclusion. This book is highly recommended and hopefully is the only the first of many Patterson and Karp collaborations.
NYPD Red by James Patterson and Marshall Karp
Read by Eduardo Ballerini and Jay Snyder
Hachette Audio, unabridged: 7 hours on 6 CDs