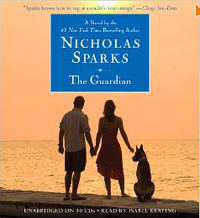 Julie Berenson deserves more out of life than sheís been given, but that does not deter her from being a good and compassionate friend, a hard worker and a responsible dog-lover. Abandoning her abusive family at age 16 and forced to live on the streets, she maintains her integrity and virtue and finds ways to make enough money to eat. Her luck turns from tolerable to abundant when she meets Jim who finds her a job, a place to live and who falls in love with her and marries her. After just a few happy years together, Jim dies, leaving her a Great Dane puppy named Singer and the promise that heíll always look after heróbe her guardian. After having survived abuse and homelessness, Julie becomes a young widow at 25. When the story opens she is 29 and is beginning to think about dating again. Jimís best friend, Mike Harris is her go to guy for handyman and automotive work, but she canít imagine him as a suitor after knowing him as Jimís friend. Mike has loved Julie for a long time, but he is reluctant to push for a more intimate relationship because he doesnít want to jeopardize the warm and trusting friendship they now enjoy. When handsome stranger Richard Franklin shows up for a haircut in her beauty salon, she allows herself to be wined, dined and wooed by him, until she becomes uncomfortable with his attention and beings to suspect his motives. As Mike observes from a distance, he senses the threat that Richard poses, at first as a romantic rival and then as a deadly enemy. Julieís life is again in turmoil as she struggles to save her life and the lives of those she loves.
The Guardian is an entertaining and enjoyable novel from Nicholas Sparks. It contains many of the elements that Sparks fans have come to anticipate and appreciateóa plucky heroine who has had hard times, but who perseveres with the help of kindness from the citizens of a small Carolina town, romance, suspense, loyalty, southern ambiance. This book has added appeal for animal lovers who will recognize the bond that Julie has with her dog, Singer. The Great Daneís remarkable behavior is so amusing that he becomes one of the most appealing characters in the book.
Nichols Sparks again delivers a story with a compelling plot and intriguing characters whose relationships evolve in a natural and believable manner. His North Carolina setting begs the listener to look into an East Coast vacation with solitary beaches, undulating sand dunes, good Southern cooking and the renowned Southern hospitality of friendly townspeople in picturesque seaside villages. Iím ready to go and see if such a place really exists.
The Guardian by Nicholas Sparks
Read by Isabel Keating
Hachette Audio: 12 hours on 10 CD