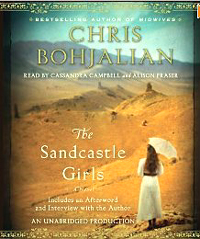 As many as 1.5 million Armenians died in the early 20th century in the Armenian genocide, but this is a largely unknown part of modern history. Chris Bohjalian's poignant tale of love and survival puts human faces on some of those Armenian victims and on the humanitarian workers who tried to help them. The story is told from two points of view and during two different periods of time—at the time of the actual atrocities and in the present. Laura Petrosian, a novelist of Armenian descent has always viewed her grandparents as ordinary, if a bit eccentric. She is aware that her grandmother, an American, married her grandfather, an Armenian, after serving as an aid worker in Aleppo, Syria in 1915. It is only after a Boston museum announces an exhibit featuring her grandmother's letters and photographs that she delves into her family history and learns the extent of their courage and remarkable resiliency.
As a member of the organization, Friends of Armenia, Elizabeth Endicott, a well-educated, out-spoken young woman accompanies her father to Aleppo, Syria in 1915 to deliver aid to starving Armenian refugees. She is shocked to see the magnitude of the suffering of the Armenians as bands of starving, naked women and children are herded into the city on their forced march across the desert to be "relocated". While in Aleppo she meets an Armenian engineer, Armen, who believes that both his wife and young daughter have been killed as a result of the genocide. When Armen leaves Aleppo to fight against the Turks, he and Elizabeth continue their friendship through letters and in time discover that they have fallen in love with each other. It is those letters that Laura uses to learn of the horrific and tragic events that each witnessed and of the ironic turn of events that brought them together and left one plagued with a guilty secret.
Bohjalian's story is both a mesmerizing and terrifying historical account and a wonderful love story. Using the two narrators allows him to offer a first person description of the horrors of the genocide, tempered by the modern day narrator's interpretation of the events. In an interview at the conclusion of the audio book, Bohjalian explains that he used the two narrators so that the first person narrator in the present could offer respite from the gruesomeness of Elizabeth's accounting of the actual events. He refers to the Armenian genocide as "the slaughter you know next to nothing about" and since 1915 will mark its centennial, The Sandcastle Girls is a timely and ideal vehicle for changing that perception.
The Sandcastle Girls by Chris Bohjalian
Read by Cassandra Campbell
Random House Audio: 11 hours on 9 CDs