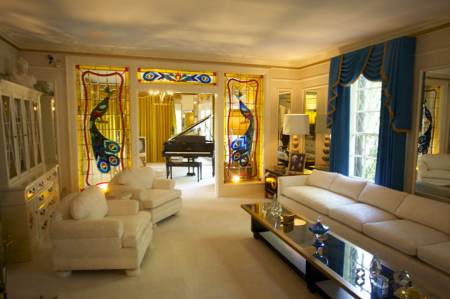 Elvis Presley bought Graceland for $102,000 in 1957 and lived here until his death in 1977. He now lies buried in the Meditation Garden alongside his mother, father and other members of his family. Follow the basic tour and, as well as passing through or by most of the rooms in the house itself, you'll also visit his office, trophy building and other rooms packed full of Elvis memorabilia. Options include VIP Tours and the Elvis Presley Car Museum.

If you go:
Graceland is open 9am-5pm, Monday to Saturday and 9am-4pm Sundays. Closed Holidays. If you don't want to do the tour, you can walk up to Elvis's grave site, the Meditation Garden, most days between 7.30am-8.30am. There's no charge for walk-ups.
Links:
Graceland/Elvis Presley Enterprises, Inc.
3734 Elvis Presley Boulevard
Memphis, Tennessee 38116 USA
graceland@elvis.com
Mailing address:
Graceland/Elvis Presley Enterprises, Inc.
P.O. Box 16508
Memphis, TN 38186-0508 USA
Phone Numbers:
Tour Reservations and General Information
+1 (701) 332-3322
Toll-free
+1 (800) 238-2000