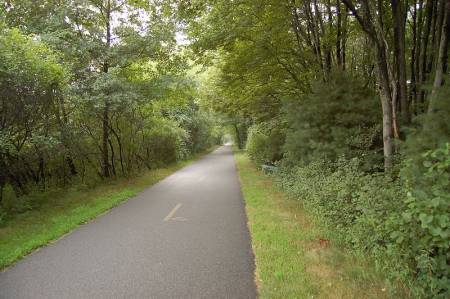 This eleven mile rail trail connecting Bedford and Cambridge runs through the cradle of the American Revolution, passing through Lexington and Arlington. The paved, level trail is popular among bike commuters, as well as leisurely bike riders, joggers, walkers, and skaters. And being open all year, it's also popular for cross-country skiing. Whether the trail is done with or without detours to explore the history of the surrounding communities, it offers a chance for refreshing exercise amid interesting scenery.

If you go:
The best time to go is early in the day if you are biking, skating or running and want to make good time. Later in the day, the trail tends to become congested.
Links:
120 South Road
Bedford, Massachusetts 01730 USA
Mailing address:
Rails to Trails Conservancy Northeast
2133 Market St.
Suite 222
Camp Hill PA 17011 USA
Phone Numbers:
Rails To Trails Conservancy
+1 (717) 238-1717