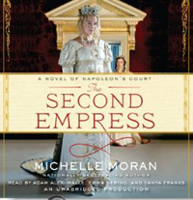 The Ogre of France! Marie Louise, daughter of the king of Austria cannot believe her misfortune that she is to become the wife of this despicable tyrant. After his defeat of Austria, Napoleon has decreed that he will strip her father of his title unless Marie Louise agrees to marry him. Since Napoleonís current wife, Josephine, seems unable to give him an heir, he decides to divorce her and marry the 19 year old Austrian royal. Because he still loves Josephine, Napoleon allows her to retain the title of Empress, so when he marries Marie Louise and brings her to France, Marie Louise becomes the Second Empress. The French court is nothing like Austria and while Marie Louise tries to be a good wife to Napoleon, she finds it difficult. Not only is he often abusive and cruel, but his sister, Pauline, is insanely jealous of her and tries to drive her away. Marie Louise is officially Napoleonís Second Empress, but Pauline has already laid claim to that title in her heart and mind. Pauline has an unnatural attraction to her brother and[PRBREAK] hopes to convince him to take her to his newly conquered Egypt where they can marry and reign together as ancient Egyptians siblings did. Napoleon rebuffs Pauline and continues his quest to expand the French Empire, but as his fortunes change and he experiences defeat and exile, Marie Louise derives strength from her royal heritage and becomes Empress in spirit as well as in name.
Micelle Moranís mesmerizing account of Napoleonís court is told alternately from the points of view of Marie Louise, Pauline and Paulineís Haitian mulatto chamberlain, Paul. Marie Louise and Pauline have widely divergent perspectives and motives, but Paulís commentary provides a unifying overview, because he loves both women and recognizes their strengths and weaknesses. The audio book is especially effective, because these three characters are presented by three different talented readers. Each is able to suggest the underlying tensions and triumphs of Marie Louise, Pauline and Paul.
Although this is a work of fiction, Moran has drawn on a vast collection of memoirs, accounts and letters to provide a mostly accurate historical picture. In a historical note at the end of the book, Moran explains that she tried to remain close to the facts she gleaned from her extensive research, but that she occasionally changed timelines and condensed letters. She justifies her harsh treatment of Napoleon and Pauline, saying that the evidence warrants it.
Even Paulineís appalling practice of using her ladies in waiting as footstools is based on documented fact. The Second Empress reveals the reality behind the legend of the man who was able to take an impoverished country and lead it into a position of world domination in a few short years. It is a fascinating and entertaining new look at one of historyís most familiar figures. Highly recommended.
The Second Empress by Michele Moran
Read by Adam Alexi-Malle, Emma Bering and Tanya Franks
Hachette audio, BOT, unabridged: 10.75 hours on 9 CDs