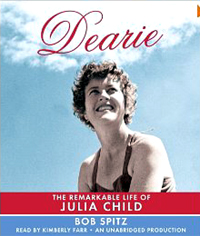 Julia Child was a giant, literally and figuratively, in the world of food. At 6 feet, 3 inches, she towered over most of her fellow chefs, and as the creator of groundbreaking cookbooks and cooking shows, she revolutionized food preparation in the 20th Century. Many remember the shrill quaver of her voice and her nonchalant approach to cooking as little more than an amusing chapter in the evolution of television, but Bob Spitz' Dearie will dispel that impression forever. His comprehensive coverage of her early life, her struggles to publish her first cookbook and her eventual celebrity status, show that this was a woman determined to succeed. Julia came from an aristocratic, wealthy family who moved from the East Coast to California before she was born. Educated at Smith where she was just a mediocre student, she worked in New York for a year and then[PRBREAK] returned to her home in Pasadena, where she enjoyed volunteering for Junior League and throwing elaborate parties. With the advent of World War II, she joined the OSS and applied her secretarial skills and elite education to become a top secret researcher. Known as a great organizer she was indispensable in cataloging the records at her different postings, and this determination was the precursor to her diligence in following through with the arduous task of researching, preparing, refining, and eventually publishing her recipes. While working for the OSS, Julia met her husband, Paul, and he introduced her to the joy of fine dining. Paul, a career diplomat, was posted to Paris, and it was there that Julie attended Le Cordon Blue and began her quest to bring French cuisine to the American homemaker. After opening a cooking school for American women who would be returning to the United States from Paris, she and two friends co-authored Mastering the Art of French Cooking, which finally made preparing French cuisine easier for the American hostess.
Spitz tells of her decade long struggle to publish her first cookbook. Each recipe had to be repeatedly tested and refined, and along the way there were squabbles with her co-authors making the publication even more difficult. In addition, Julia and Paul where transferred to different diplomatic posts and each time Julia had to set up her kitchen and start over, testing ingredients in a new environment. Her cheerful determination worked to her advantage though, as when they were sent to Marseille and she used the opportunity to learn more about fish and perfected some of her seafood recipes.
Julia's courageous, indomitable spirit was also instrumental in securing her a place in television history. When asked to appear on a live educational book review show, she decided to demonstrate preparing an omelet on a hot plate, and the success of that show blossomed into worldwide distribution of hundreds of cooking shows over the course of her lifetime. An advocate for women in the food industry, Julia was also revered for her unselfish willingness to encourage young chefs to pursue their art and to present cookery in a more public manner. One such chef was a youthful Emeril Lagasse, who delighted her when he invited her to his New Orleans backyard for a gourmet barbeque. This audio book is very long, but fascinating, and listening to the book while cooking makes for a surreal experience. Between information garnered from extensive media coverage of her literary and television careers and the comments of her many friends, acquaintances and colleagues which are included in this work, Spitz presents an enthralling picture of both the public and private Dearie, Julia Child.
Dearie: The Remarkable Life of Julia Child by Bob Spitz
Read by Kimberly Farr
Random House Audio, unabridged: 25.5 hours on 20 CDs