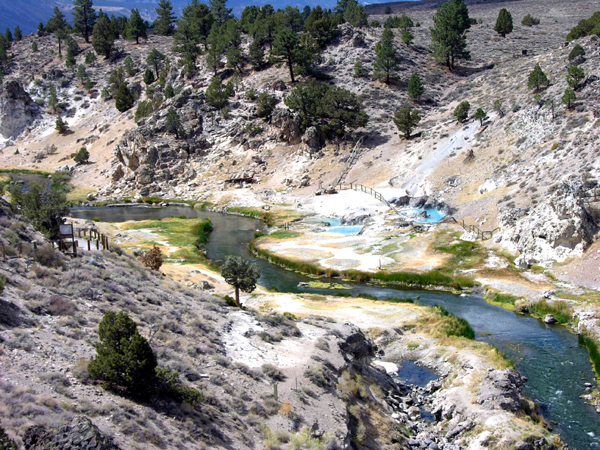 Photo by Mark Seenquist
Hot Creek passes through a very active geothermal system known as the Long Valley Caldera. Historically, locals and visitors went swimming here, especially in the winter months when the hot water erupting from vents in the floor of the creek would mix with the below-freezing water of the stream. On the day, I visited there was one swimmer in the usual spot, but the US Forest Service has been tasked with keeping this area closed since June 2006 because of geysering in the creek area.

If you go:
A paved trail affords visitors a good overview of this area. The unpaved road to this trail head is closed in winter months. This the warning posted at the site: "Earthquakes can cause sudden geyser eruptions and overnight appearances of new hot springs at Hot Creek. Water temperatures can change rapidly, and so entering the water is prohibited."
Links:
Hot Creek Hatchery Road
Mammoth Lakes, California 93546 USA
Phone Numbers:
USFS Inyo Forest Information
+1 (760) 873-2400