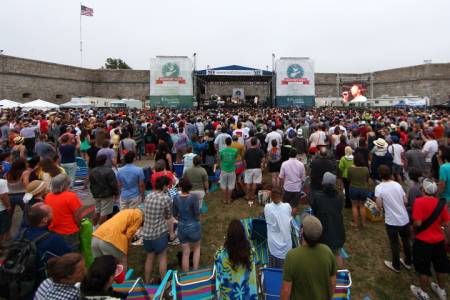 For one weekend every summer, Fort Adams State Park hosts on of the finest folk music festivals in the country. Established in 1959 and attended each year by thousands of fans from all over the world, the festival essentially introduced the public to such legends as Joan Baez, Bob Dylan and Kris Kristofferson. The scenic setting in a historic park by the water makes it an ideal location to bring a blanket and picnic and take in an eclectic variety of music.

If you go:
The Newport Jazz Festival, which is even older than the Folk Festival, is held at about the same time, typically the following weekend. The festivals sell out months in advance, so plan accordingly. Consider public transportation to the event, as only a limited number of parking spaces are available onsite and parking in Newport can be a challenge.
Links:
Fort Adams State Park
Newport, Rhode Island 02840 USA
info@newportfolkfest.net
Mailing address:
Newport Festivals Foundation, Inc.
PO Box 3865
Newport, RI 02840 USA
Phone Numbers:
Newport Festivals Foundation
+1 (401) 848-5055