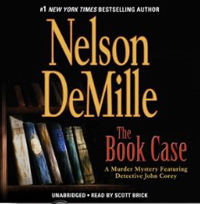 Otis Parker couldn't have known how prophetic he was being when he named his independent book store the Dead End Bookstore. While the name was appropriate for his specialty - murder mysteries, it became a grin irony when he was found dead under a pile of books. While sitting at his desk, he was crushed by a mammoth bookcase that came away from the wall and fell on him. It appeared to be an accident, but one of the responding patrol officers suspected foul play, so Detective John Corey was tasked with investigating and making a determination whether Otis Parker's death was the result of bad luck or of murder. It doesn't take Corey long to deduce that Otis was murdered by someone he knew, and what follows is the literary equivalent of a game of Clue.
Who knew that John Corey as a solo act could be even funnier and wittier than he is when he's bouncing quips off a female colleague? In this short story, Nelson DeMille treats readers to vintage John Corey when he worked as a detective for the NYPD, before his association with the Federal Anti-Terrorist Task Force. He appears to be joking and wise-cracking his way through the crime scene, but all the while he is collecting data, following leads and assessing suspects' behaviors. Listeners familiar with other DeMille novels will recognize the mesmerizing narration of Scott Brick. Those who have not had the pleasure of being entertained by him can prepare to be amazed by his brilliance.
The only thing wrong with this book is that it's short. 2 hours of John Corey's asides leaves the listener wanting more, but there is a bright side. On rehearing the book, there is more - comments that might have been missed at first. Reading the book a second time is like listening to a strangely familiar tale, told from a new perspective. This is a book to be treasured.
The Book Case by Nelson DeMille
Read by Scott Brick
Hachette Audio, unabridged: 2 hours