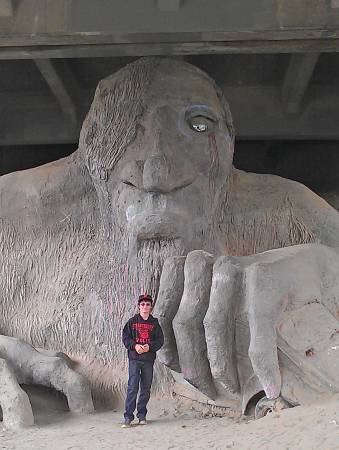 Photo by Gabrielle Olfs
Located under the north end of the George Washington Memorial Bridge also known as the Aurora Bridge a giant 18-foot high, 13,000-pound sculpture begs to be climbed on.

If you go:
Commissioned by the Fremont Council of Arts, four sculptors fashioned this giant piece made of rebar steel, wire and 2 tons of ferroconcrete. Events and places in the Fremont District play on the idea of the troll so pick up a walking guide at the Chamber or download at the Chamber website.
Links:
N. 36th Street at Troll Avenue N
Seattle, Washington 98103 USA
Mailing address:
Fremont Chamber of Commerce
History House
790 N. 34th St.
Seattle, WA 98103 USA
Phone Numbers:
Fremont Chamber of Commerce
+1 (206) 632-1500