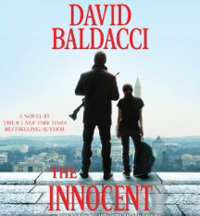 Imagine a government hit man, tops in his trade, who has a moment of doubt and aborts his mission before killing a mother and innocent child. When he hesitates to make the kill he finds himself the target of a backup shooter and is forced to run. His escape plan puts him on a bus where he befriends an extremely bright, precocious 14 year old girl who is also trying to evade killers. Having just witnessed her parents' assassination, she is trying to escape from the gunmen who are pursuing her. Sensing danger, Will Robie, the hit man and Julie, the young girl, exit the bus seconds before it explodes, killing the rest of the passengers. Through his government connections, Robie is assigned to assist the FBI with the case of the bus explosion. The agency has no idea that he is already involved in the crime, being one of the few witnesses to the crime and the probable reason it occurred. Working with a female agent, he keeps Julie's existence hidden for as long as possible, but the girl's determination to find her parents' killers brings her to the FBI's attention and puts both Robie and Julie squarely in the assassins' sights.
Baldacci's new hero, an admitted and accomplished hit man with a conscious and a sense of moral responsibility, makes for a unique character. Pairing him with a sassy, impetuous teenager leads to many entertaining scenes and conversations. Baldacci add the romantic elements of a pretty young woman who lives in Robie's apartment building and the enticing events that occur as Robie hides his actual occupation from her. The real draw of the book, though, is the finely crafted, suspense-filled plot that takes the reader on a roller coaster ride of danger and intrigue, ending with an unexpected and shocking conclusion. Sharing the narration, Ron Mclarty and Orlagh Cassidy alternatively portray the male and female characters, giving them believability. Cassidy is particularly adept at showing Julie's toughness as well as her vulnerability.
All of Baldacci's mystery thrillers guarantee excitement, but this book goes far beyond and offers absorbing human interest in addition to electrifying drama. This book will be hard to put aside once you meet Will Robie and get involved in his story. It is definitely one of Baldacci's finest.
The Innocent by David Baldacci
Read by Ron McLarty and Orlagh Cassidy
Hachette Audio, unabridged: 12.5 hours on 10 CDs