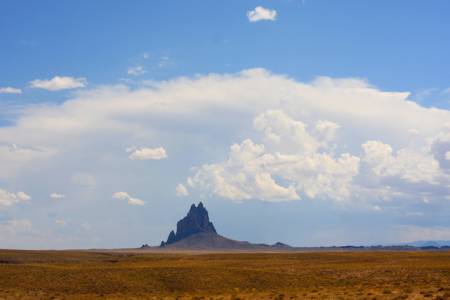 Photo by Peter Thody
This dramatic natural landmark juts 1,583 feet out of the otherwise flat plain of northwest New Mexico. The rock is sacred to the Navajo Nation; according to legend, the rock carried the Navajo here and provided a home for their people (its Navajo name, Tse Bi dahi, means rock with wings). The modern name 'Shiprock' was given to this eroded volcanic plume for its supposed similarity to the prow of a 19th century clipper.

If you go:
Shiprock lies on Navajo Nation territory and is not open to the public; however, the views from nearby highways are spectacular.
Links:
Shiprock, New Mexico 87420 USA
Mailing address:
New Mexico Tourism Department
491 Old Santa Fe Trail
Santa Fe, NM 87501 USA