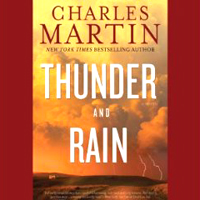 Texas Ranger Tyler Steele never realized that literally bumping into Samantha and her daughter, Hope, on a foggy highway would change all of their lives. With no gas, no money, a broken-down car and a sick daughter, Samís predicament is not one that the honorable cowboy can ignore. Fierce independence and her desire to protect her child from strangers, makes Sam resist his assistance initially, but an attack by a deranged and violent ex-boyfriend leaves her no choice but to go with him. With a strong sense of right and wrong, Tyler has always been a man to aid the innocent and the unprotected, so helping Sam is not out of character for him. His own life in chaos, heís at least able to rescue this woman and her sick child. Tyler and his son Brodie live on a ranch in West Texas where they raise cattle, and although he speaks of his wife she is not currently in their lives. After a series of heroic encounters that leave him physically and emotionally vulnerable and his retirement from the Texas Rangers, he has assumed the role of cowboy on his ranch. As he helps Sam and Hope escape their past and build a new life, Tyler must come to grips with the demons in his own life and face the fact that the Teflon cowboy has a heart.
Charles Martinís characters are unforgettable. Tyler is The Marlboro Man personified. Rugged, independent, strong and brave, he is fiercely loyal to the people he loves and to the high ideals he upholds. Martin shifts the first person narration from Tyler whose reporting of events develops the plot to Hope who responds to the events around her by writing to God in her diary. This clever device allows the listener to understand the struggles that Tyler is having between doing what is right and what is expedient. Martin cleverly inserts gripping drama in the beginning of the book to introduce the characters and engage the readers in their plights. As the book progresses, though, the plot is more about how the characters react to the daily predicaments in which they find themselves. Daniel May gives a virtuoso performance with his narration, allowing the reader to live in West Texas with Tyler and the other townspeople. Lucy Christian Bell is very effective as the voice of Hope, both the character and the virtue.
This is a book that will appeal to a wide range of readers. Portraying the western cowboy in modern society with its pressures and human entanglements is like having Nicholas Sparks rewrite The Lonesome Dove. Readers canít help but come away from this book with an appreciation for and an understanding of the uniqueness of the band of lawmen known as Texas Rangers. Thanks to Martinís eloquent depiction of an extraordinary, but imperfect member of that elite group, the reader will recognize that we all deal with a personal thunder and rain. Most highly recommended.
Thunder and Rain by Charles Martin
Read by Daniel May and Luci Christian Bell
Hachette Audio, unabridged: 12.25 Hours