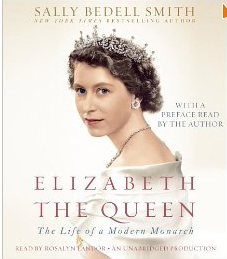 "Grief is the price we pay for love." It may seem out of character for these words to have come from the lips of Queen Elizabeth II, the reigning monarch who is seen by the world as reserved and formal, but Sally Bedell Smith's impressive biography offers new insight that presents Her Majesty as being kind, warm, witty and loving. Told as a chronological narrative, the book re-counts intimate details in the life of Elizabeth from her childhood upbringing to her present situation as she prepares to celebrate her Diamond Jubilee, marking 60 years as Queen. Elizabeth became queen in 1952, at the age of 25 when her father, King George VI died. She remarked that celebrating the anniversary of her ascension is always bittersweet because, while joyful, it reminds her of her father's death. As a young girl and heir presumptive, she was schooled in royal protocol and throughout her life took her responsibilities seriously, often making physical and personal sacrifices for the good of the Commonwealth. Smith reports times when she had to stand for hours without appearing to tire and how she's perfected a particular method of handshaking that protects her from cuts caused by bejeweled and zealous greeters. Although she was to become Queen, her mother and governesses believed that she should be raised with simple values, so she had chores and was required to fold her clothes and make her bed. They even formed a special unit of Girl Guides (or Girl Scouts) so that Elizabeth and her sister Margaret could interact with other girls. Elizabeth continued her involvement with the common people when she worked as a mechanic and driver during World War II. Her love of driving continues to this day, and she's astonished friends and heads of state with her knowledge of automobile engines.
In a preface read by the author, Sally Bedell Smith explains why she was selected to write this biography and how she acquired permission to interview more than 200 relatives and acquaintances of the Queen. Although the book is based on observations, accounts, letters, and reported conversations of others, it reads like historical fiction. Rosalyn Landor's delivery in her assorted British dialects, ranging from "the Queen's English" to cockney slang adds authenticity to the audio book.
Because of her impeccable manners and undeniable devotion to her country, Elizabeth has earned respect and admiration. However, her parenting skills have been called into question, because of her public indifference toward her children. Watching her respond, "Not now, not you, dear," to young Charles as she turns to greet dignitaries first after returning from a long trip abroad, it is only natural that the media would interpret her actions as unfeeling and lacking maternal warmth. Smith gives numerous examples, though, of her private interactions with her children being the exact opposite of the public coldness so often reported in the media. Three of her children have divorced, and she has supported them in their actions, even though divorce is still frowned upon in royal circles. She has accepted several of her grandchildren's departure from royal protocol, refusing royal titles so that they won't be bound by the traditions and restraints being a Royal entails.
Smith's extensive coverage of Elizabeth's interests and encounters gives a new persona to the purse-carrying, hat-wearing symbol of royalty. With her interest in her horses and in racing, her attendance at the Kentucky Derby and her desire to meet the 2007 winning jockey, Calvin Borel at a White House state dinner makes perfect sense. She has formed a close and intimate friendship several American presidents because of her diverse interests, from sharing motor pool stories with Eisenhower to riding horses with Reagan.
With the downturn in the economy, talk in Britain turns to the expense of maintaining the monarchy and dissatisfaction with the royal family. Elizabeth has supplemented the Civil List expenses with her own funds and she relinquished and sold the royal yacht, Britannia. While some feel that she should abdicate and appoint Charles or William to rule, she takes her anointing with oil and her pledge to serve until death seriously. She has, however, agreed to changes in the monarchy—adapting culturally and politically. She even has a Facebook page and uses texting to stay in touch with her children and grandchildren. Just recently parliament approved a measure to change the rules for ascension to the throne, so that it will no longer be gender specific and the first born will be heir, whether son or daughter. Smith's book illustrates Elizabeth's humanity, revealing her warmth, charm and sense of fun. On meeting Helen Mirren after Helen portrayed her in The Queen, Elizabeth quipped, "I suppose you think I should be curtseying to you." Highly recommended for insight and entertainment.
Elizabeth the Queen by Sally Bedell Smith
Read by Rosalyn Landor
Random House Audio, unabridged: 21.5 hours on 17 CDs