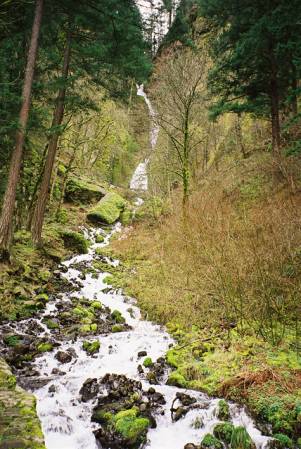 Located about half a mile west of the famous Multnomah Falls, Wahkeena Falls tumble spectacularly down to the Columbia River, falling 242-ft between moss-covered rocks and rich green woods. There's a good view from the parking area and a half-mile hike leads up to a pretty stone bridge that offers an excellent vantage point. 'Wahkeena' is a Yakima Indian word meaning 'most beautiful'.

If you go:
If you're looking for a slightly longer hike, you can continue up the steep Wahkeena Trail to Fairy Falls. A little further you'll reach the trail that loops east to Ecola Falls, Weisendanger Falls and, finally, Multnomah Falls.
Links:
Wahkeena Falls
Historic Columbia River Highway
Bridal Veil, Oregon 97010 USA
Mailing address:
Columbia River Gorge Visitor's Association
404 W. 2nd St.
The Dalles, OR 97058 USA
Phone Numbers:
Columbia River Gorge Visitor's Association
+1 (800) 984-6743