Seaside Heights Boardwalk offers a mile of delights on two piers, Casino Pier and Funtown Pier. Discover all the standard boardwalk fare and a few surprises: There are carousels, a Ferris wheel, kiddie rides, go-karts, and bumper cars. In addition, there's arcade on top of arcade on top of arcade -- eight in all -- with games of chance and skill where you can win not only stuffed animals but some unusual prizes as well. Or how about a game of mini-golf up on the roof?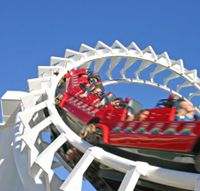 Photo by iStockPhoto.com (c) Brett Mulcahy
If you go:
During the summer months there are weekly fireworks and outdoor movies, as well as special events (including an annual clown festival) through October.
Links:
Boardwalk between Sherman and Porter Avenues
Seaside Heights, New Jersey 08751 USA