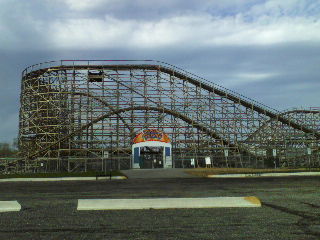 The Zippin Pippin is one of the oldest wooden roller coasters in the US, and is famous for being Elvis Presley's favorite coaster. It was purchased by the City of Green Bay in 2010, and moved from a bankrupt Memphis amusement park to its current home at Bay Beach Park.

If you go:
The Bay Beach Amusement Park is open from May through September. There is no admission fee, and rides on the Zippin Pippin are just $1 each. There are several other low cost, family friendly rides and attractions located within the park.
Links:
1313 Bay Beach Road
Green Bay, Wisconsin 54302 USA
jeanse@ci.green-bay.wi.us
Mailing address:
Green Bay Parks and Rec. Dept.
100 North Jefferson Street
Room 501
Green Bay, WI 54301 USA
Phone Numbers:
Bay Beach Amusement Park
+1 (920) 448-3365