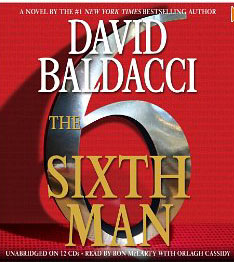 Sean King and Michelle Maxwell are on a mission to help Sean's long time friend, Ted Bergin, prepare a defense for a client who has been accused of being a serial killer. Edgar Roy, the accused killer, was discovered holding a shovel in his barn at the exact spot where authorities unearthed six bodies. He is currently being held in a remote prison in Maine and Sean, Michelle and Ted are scheduled to meet there to question him. Michelle and Sean discover Ted's car along the road, with the attorney dead from a fatal gunshot. They now have two crimes to investigate: their friend's and the client's whose defense cost Ted his life. As they explore the facts surrounding Edgar Roy and his alleged crime, they discover that he is not a simple farmer, but an extraordinarily gifted intellectual whose work has been crucial to the highest levels of government and corporate security agencies. Their investigation leads them back and forth up and down the Eastern seaboard between Maine and Washington, DC. as they delve into Roy's personal and professional activities and discover the diverse group of powerful people who have a stake in his fate.
Baldacci brings Sean and Michelle together again for this conspiracy crime thriller, and once again their chemistry as they untangle complex details and confront danger with courage and physical power is captivating. In this book their relationship becomes more intimate, as they begin to acknowledge their feelings for each other. Sadly, though, it may be too late for them. Ron McLarty and Orlagh Cassidy are brilliant in their portrayals of not only Sean and Michelle, but of the vast cast of characters of all ages and backgrounds. Baldacci creates a suspense filled cat and mouse thriller where villains and victims seem to be interchangeable. McLarty and Cassidy effectively convey the changing sinister and sincere attitudes of their subjects, resulting in revelations made even more chilling by their narration.
The Sixth Man presents a situation where technology and extraordinary human intelligence are combined to wield tremendous power that in the right hands would be used to protect the world, but in the wrong hands, could destroy it. Government agents, politicians, and corporate rulers jockey for the lead in the race to control the power, leaving Sean and Michelle to pursue killers and safeguard potential targets. Baldacci makes the mind-boggling possibilities of techno-human collaboration seem plausible, giving the listener a thought-provoking vision along with an engaging, entertaining story.
The Sixth Man by David Baldacci
Read by Ron McLarty and Orlagh Cassidy
Hachette Audio, unabridged: 12.5 hours on 12 CDs