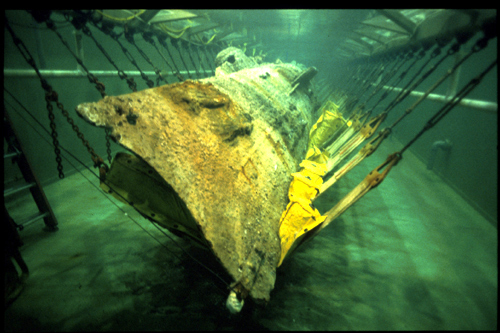 The first submarine ever to sink a ship in battle, the Confederate sub H. L. Hunley mysteriously disappeared with its crew of 8 immediately after its successful 1864 mission. Discovered on the ocean floor in 1995 and raised in 2000, the wrecked vessel is now housed at the Warren Lasch Conservation Center, where scientists study and preserve the vessel and its artifacts. And the public is invited to get a glimpse of the Hunley in its conservation tank, and learn more about its history and the conservation work.

If you go:
The Hunley viewing tours are conducted only on weekends, and last for 20 minutes. The lobby has other interesting and informative exhibits, which visitors may photograph. No photography is allowed in the room where the Hunley is kept. Tickets are $12 per adults.
Links:
1250 Supply St.
Bldg. 255
North Charleston, South Carolina 29405 USA
Mailing address:
1250 Supply St.
Bldg. 255
North Charleston, SC 29405 USA
Phone Numbers:
Tickets -- Toll Free
+1 (877) 448-6539
Office and Information
+1 (843) 743-4865