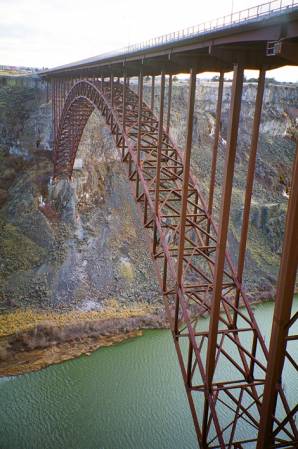 Perrine Memorial Bridge, a huge steel arch carries U.S. Higway 93, 486 feet above the Snake River canyon. When it was first built in 1927, the current bridge went up in 1974, this was the highest bridge in the world and the view remains breathtaking, so much so that it has its own visitor center. The bridge is a magnet for base jumpers, the people who leap from Buildings, Antennae, Spans and Earth (cliffs) as it is possible to jump there every day of the year, and perfectly legally too.
Links:
US Highway 93
Twin Falls, Idaho 83301 USA
Mailing address:
Twin Falls Chamber of Commerce
858 Blue Lakes Blvd. N.
Twin Falls, ID 83301
Phone Numbers:
Information
+1 (208) 733-3974
Toll-Free
+1 (866) 894-6325